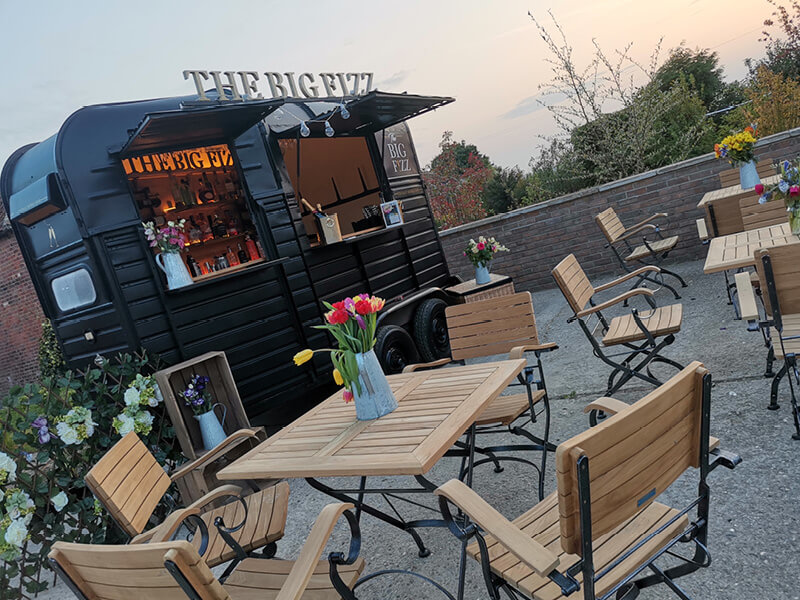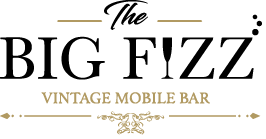 We are a small family owned and run business based in Lincolnshire, with a real passion for what we do. This is reflected in our standards of service and customer recommendations.
This enthusiasm and creativity continue throughout the whole process; from receiving the initial enquiry, and developing an understanding of what you are hoping to achieve, creating your bespoke packages and drinks menus, product sourcing, and just being at the event to watch your special day unfold and be part of those happy memories.
The preparation is as important to us as the actual event. As part of our service, we will always have at least one pre-event meeting and we will always visit the venue beforehand. This means there are no unnecessary and avoidable complications on the day.


* * * * *
After asking for recommendations for a bar for my Mum's 60th Birthday, not knowing where to go. Everyone directed me to Charlotte and The Big Fizz. Well, what can I say, Charlotte goes above and beyond in her attention to detail with everything! The Big Fizz set up is incredible and all the finishing touches are amazing. I sincerely cannot thank you and Emily enough for everything and it goes without saying The Big Fizz is 'Simply the Best'.
Charlie

* * * * *
Charlotte and the big fizz. Well what can I say, they came to us to do bar for my sons christening. Would highly recommend, did a fabulous job very friendly. They provided a wide selection of beer, cider spirits. So if you need a bar, contact The Big Fizz.
Tracy

* * * * *
Charlotte, you are amazing. I cannot thank you enough for everything you and Emily did. Like I said in my message to you, you're simply the best and it goes without saying I think everyone at the party would totally recommend you and The Big Fizz. Thank you!
Charlotte P.

* * * * *
Brilliant night on Saturday. Xxx you were amazing xxx will recommend you to everyone xxx.
Patricia

* * * * *
Just wanted to say a massive thank you for doing an awesome job of the bar last night. Your attention to detail was great and it looked stunning. Thank you for the thoughtful gift you gave us. We had a great night.
Richard

* * * * *
Thank you for doing an amazing job with the bar Charlotte!
Bride

* * * * *
Fabulous hen party for Alison at the Langtoft Festival. Lots of alcohol, food, games, glitter and being WOWed by a magician. Big thanks to Abbe for arranging and Charlotte at The Big Fizz who provided such a great set up.
Zoe

* * * * *
Thank you to everyone for making it such a fantastic day at Langtoft Festival for Alison's hen party. Love and a huge thanks to Charlotte for making everything absolutely perfect.
Abbe

* * * * *
Fantastic day at Alison's hen party! Great effort Abbe at organising everything. Food was great and the drinks flowed all night. Brilliant service and set up from The Big Fizz. You can never have too much glitter!
Toni

* * * * *
Thank you, Charlotte and her fantastic team for organising such a wonderful hen party at Langtoft Festival. The decorations, service and the gin cocktails were absolutely perfect and I just can't recommend you highly enough. Thank you so much once again.
Abbe

* * * * *
Would definitely recommend The Big Fizz. The set up was beautiful at my friend's hen party at Langtoft Festive. Charlotte and staff were amazing and the service was outstanding such a lovely friendly atmosphere.
Zoe

* * * * *
Charlotte & her girls were fantastic at a hen party at the weekend. Everything was so well organised, set up was perfect, service was amazing and nothing was too much trouble. Highly recommend The Big Fizz.
Paula

* * * * *
Can't recommend Charlotte enough. As Event Manager at Langtoft Festival, I received very positive feedback from many attendees about The Big Fizz.
Warren

* * * * *
Can't recommend The Big Fizz enough! Service was second to none and extremely Reasonable prices. Anyone looking for an outside bar for a function or party contact Charlotte.
Toni

* * * * *
Fabulous & refreshing – if you see the name The Big Fizz out and about, drop by because its quite simply a fantastic idea, full of finesse and shouldn't be missed !! We loved it…….. !!
Sara

* * * * *
I had some awesome feedback about your little venture at this party, they loved it.
Nicole

* * * * *
I am so pleased that I decided to go ahead and book The Big Fizz for my 50th birthday party. Charlotte works hard to ensure that she works with you to provide a variety of drinks and budget that you want for your party and if you want a theme, this would not be a problem.
From the word go, Charlotte and Jemima were so lovely and could not do enough and ensured the drinks flowed. The three cocktails went down a storm, particularly the Slingsby and these made sure my party went with a bang.
I would book The Big Fizz again for any future celebrations I would have in a heartbeat – if you are hesitating, don't, go for it and make your party a night to remember.
Tracey

* * * * *
What a fantastic service – superbly delivered by all staff I would highly recommend using them.
James

* * * * *
The Big Fizz is brilliant. Charlotte is such a lovely, amazing lady and the whole bar and set up is beautiful. 10/10 would recommend xx.
Amelia

* * * * *

Amazing team and amazing service. The big fizz supplied the bar for our wedding and what a great job they did. Friendly, polite and helpful right till the end. Guests mentioned how good the trailer is. Thanks again guys!
Holly

* * * * *
Everything was perfect from start to finish! Nothing was too much effort. Outstanding service. Faultless. Thank you for making our wedding day so fantastic.
Megan
View our showstopping mobile bar...